This article is for:
Passport Agency Staff Users

You can download and view reports for activities across your Agency.
Navigate to the "Reports" menu option.
There are many reports templates already pre-designed and created in your account.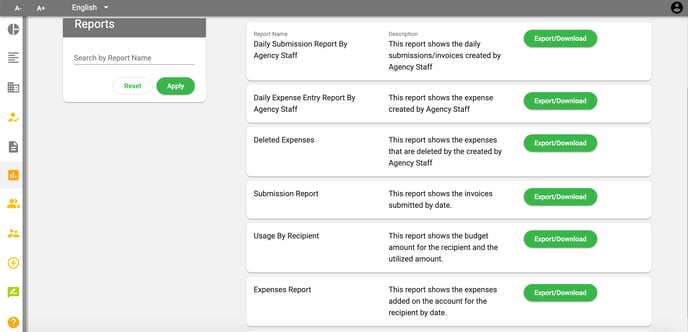 Please note: In the future updates of the EMT feature, there will be more customization opportunities to create reports tailored to the needs of your specific agency.
Full List of Current Report Options:
| | |
| --- | --- |
| Report Name | Description |
| Daily Submission Report By Agency Staff | This report shows the daily submissions/invoices created by Agency Staff |
| Daily Expense Entry Report By Agency Staff | This report shows the expense created by Agency Staff |
| Deleted Expenses | This report shows the expenses that are deleted by the created by Agency Staff |
| Submission Report | This report shows the invoices submitted by date |
| Usage By Recipient | This report shows the budget amount for the recipient and the utilized amount |
| Expenses Report | This report shows the expenses added on the account for the recipient by date |
| Reconciliation Report | The reconciliation report shows the invoices created in the account by line items |