This article is for:
Passport users who want to understand How to Create an Expense on the Mobile MyDirectPlan Application.
On MyDirectPlan, creating your expenses is the first step in the road to reimbursement!

When using the MyDirectPlan Mobile App, you will notice that unlike on the desktop version, the tabs to submit expenses and view your invoices can be located towards the bottom of your phone screen. You will see options such as Dashboard, Expenses, Invoice, and Workers. In order to create an expense, you will need to select the tab titled "Expenses"
If you have not yet submitted an expense for reimbursement on the MyDirectPlan mobile or desktop App, your Expenses tab will look like this: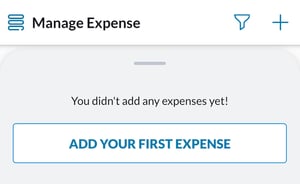 In order to add an expense, you can either click on the button "ADD YOUR FIRST EXPENSE" or, in the upper right corner you may use the plus button "+" to add new expenses. If you've already added expenses before, your Manage Expense section may look like this: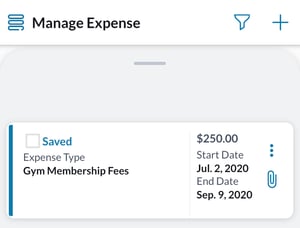 When trying to add an expense, you will be taken to a list of expense categories. To begin creating your expense, select the category that your expense falls under. For example, expenses for COVID-19 would fall under "Other."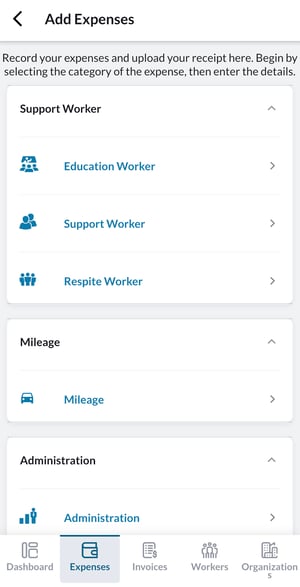 You can find descriptions of the categories and examples of eligible expenses (in some cases) by tapping on an expense category:

Once you have found the expense category you are looking to submit an expense in, tap on it and you will see the following page: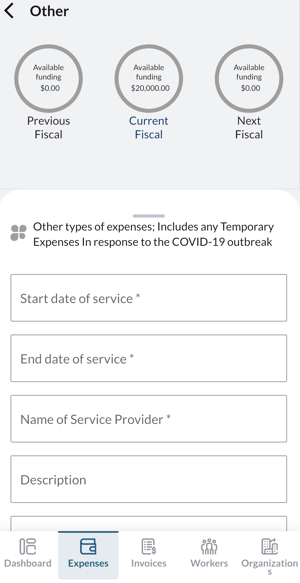 At the top is your available fiscal budget for the current year, previous year, and next year to show you how much funds are available in your balance. You will be required to add your date of purchase, the total cost, and it is recommended that you attach a receipt.
Please press "SAVE" when you have filled out the required information in order to save your expense. Please note that at this time, once saved, the expense still needs to be submitted.
In order to view your expense, and to submit it, please go back into the Expenses tab on the app. You will now see your created expense!
Congratulations, you've created an expense using the MyDirectPlan Mobile App. 😊