Understanding your MyDirectPlan Account and Dashboard
When logged in to your MyDirectPlan account on desktop, you will notice various options on the left hand menu screen. In this article, we are going to highlight what each tab is responsible for.
There are 9 tabs in the menu bar on MyDirectPlan. Each one has its own functionality. They are as shown: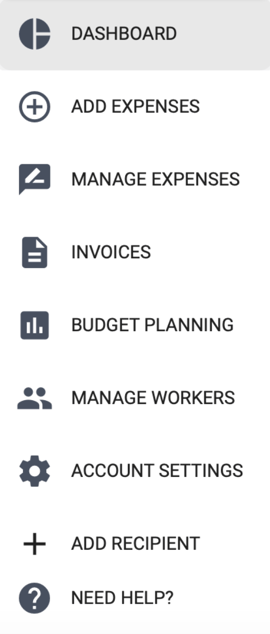 ---

The Dashboard tab is the default page which will open once you have logged in to your MyDirectPlan account. Your dashboard has many features, which we have outlined: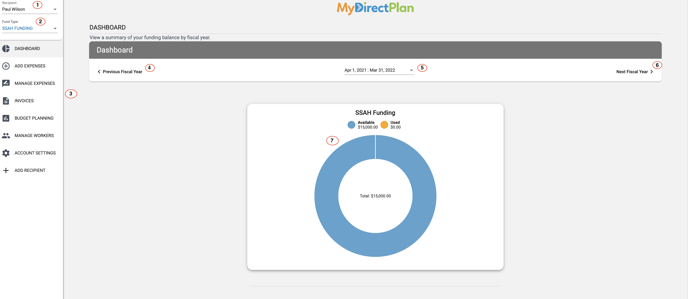 The Recipient Profile: This is where you can switch between recipient accounts.

Fund Type: This is where you can switch between funding types for the selected Recipient.

Menu options: These are the various tabs you can select on your MyDirectPlan account. Continue reading to see what each tab allows you to do.

Previous Fiscal Year button: This button, when clicked, will adjust your dashboard to show your funding amounts for the previous fiscal year.

Fiscal Year Filter: Selecting this will open a drop down menu of the previous, current, and next fiscal year.

Next Fiscal Year button: This button, when clicked, will adjust your dashboard to show your funding amounts for the upcoming/next fiscal year.

Your Funding: In this section, you will see a visual graph of your funding. It outlines your total funding, your available funding, as well as your used funding. This is also listed above the graph.
⭐ TIP: Missing your funding? Check out this article, which can assist you in getting it added!
---

In the Add Expenses tab, you can enter in eligible expenses quickly and easily.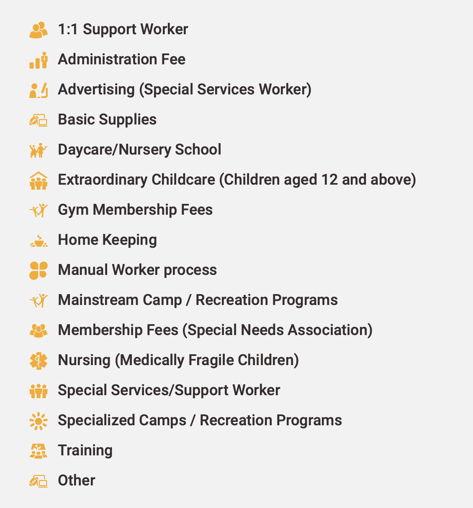 Selecting the appropriate expense type will then allow you to submit an expense under that category.
⭐ TIP: Keep in mind that an expense is not submitted until you have gone to your Manage Expenses section of your account, as from there you can submit your expense.
---

The Manage Expenses section of MyDirectPlan is where you can review the expenses created in the "Add Expenses" tab prior to submission to your Ministry Regional Office. This is also where you may review your previously submitted expenses as well.
Remember, expenses are not yet submitted until they are in saved status and you have selected them using the checkboxes next to each expense, as shown:

After selecting the expense using the checkbox, you may submit it by selecting the create invoice button.
⭐ TIP: Expenses in Pending status are Support Worker expenses. Have your Support Worker log in to their MyDirectPlan account and approve these expenses. Read more here.
---

After submitting expenses to your Payment Processing Office through the Manage Expenses tab, you can view the status of that invoice in the Invoices section of your account. The status displayed indicates what stage your invoice is at in processing. Please note that the final status on MyDirectPlan is "submitted" and this will not change. It is highly recommended you monitor your direct deposit account to ensure you receive your reimbursements.
⭐ TIP: For questions regarding your invoice, including its current status, timeline for reimbursement, or for any changes that need to be made to an invoice, please contact your Regional Office. MyDirectPlan does not handle any payment related matters, as we do not have access to this information.
---

The Budget Planning tool allows you to budget your funding for each month of the year. The monitoring tool will not have any affect on other areas of your MyDirectPlan account. Setting up this budget will allow you to plan how to spend your approved budget and keep track of your spending throughout the fiscal year.
---
The Manage Workers section of your account is how you can add Support/Education/Respite Worker accounts, which allow you to log the work performed by Workers, and also allows your Workers to verify the days worked, as well as the hours and rate being claimed for SSAH Funding. Note that the Worker(s) will not have access to your personal profile or budget information.
You will not be able to enter any expenses related to the services your Worker has provided until they have accepted the MyDirectPlan invitation and their status says Active.
For more information on adding workers and the approval process, check out our knowledge base article on the topic here.
---

Any information you entered during the set-up wizard is saved in your Account Settings. In this section, you can:
Review and edit your profile information
Review and update your Fund Settings.
Change your password
Change the email address you use to sign in to MyDirectPlan
Change your notifications and communications settings.
Any profile information that is updated will need to be shared with your Ministry Regional Office. Please notify your Regional Office directly of any changes.
---

The Add Recipient portion of your account is where you can add new recipients, as your MyDirectPlan account allows you to manage the funding of multiple recipients.
---

The Need Help tab is where you can find the contact details of MyDirectPlan support. You can also schedule a call with a live agent, or view various online support materials to assist with the application, including instructional videos, user guides and FAQs.
⭐ TIP: We have a handy article that outlines how you can schedule a support call with MyDirectPlan, where a live agent will call you at a selected time and date. To learn more about scheduling a call, visit this article.
---
And there you have it! You are now an expert on all things related to your MyDirectPlan account and your dashboard's many features. 🎉
Still need help?