This article is for:
Passport Users who want to submit an expense over two fiscal years or submit an expense for a future date.
Expenses that cross two fiscal years
When you're submitting an expense that crosses over two fiscal years, MyDirectPlan has a built in system that will split the expense.
If you enter an expense with a Start date in one fiscal year and an End date in a different fiscal year, MyDirectPlan will split the expense into two expense lines and you will receive a warning as shown here: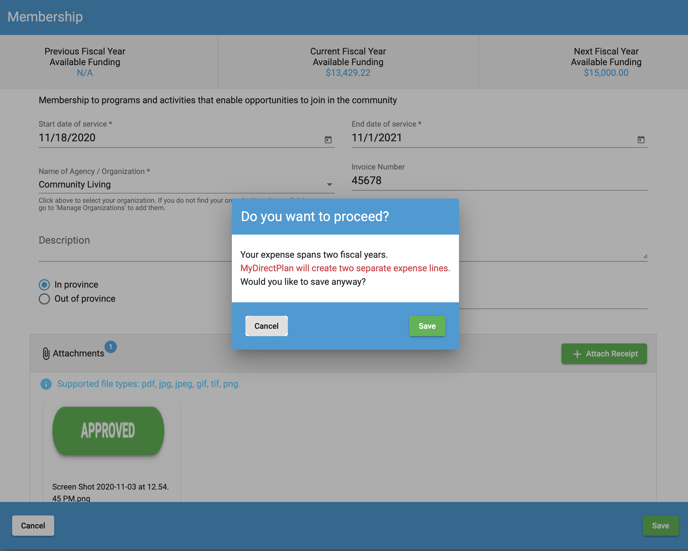 The value of the two expenses will be prorated based on the dates and the amount you enter. The two expenses will then be taken out of the two separate fiscal year budgets, as shown above.

If you are receiving this error, it is because you have not yet set up funding for your next fiscal year. You are unable to submit an expense across two fiscal years if you do not have both set up. Please set up the funding for the fiscal year in which the expense is being split into. If you don't know how to do this, check out our article on 'How to Update Your Fund Settings'.
Expenses Incurred at a Future Date
You may submit future dated expenses with your Passport Funding (ie: for expenses that are paid out of pocket before they finish, or for expenses where a money deposit was required before the services were rendered). Please note however that submitting these expenses, while allowed, will take longer to process and will often need to be manually reviewed by your Passport Agency. We recommend that you anticipate delays in being reimbursed if you submit future dated expenses.
Still need help?