Due to new updates to Passport Funding guidelines, starting on September 01, 2021, there will be a new expense category for Passport Funding users on MyDirectPlan. This new expense category is called "Ticketed Live Events" and can be found on the "Add Expenses" page on MDP. Live events include tickets for live music, theatre, sporting events, and a wide variety of other events including virtual events.
The forms required to submit these types of claims are automatically added to your MyDirectPlan account and will be filled out for you when creating a "Ticketed Live Events" expense.
Live Event Tickets
The updated Passport Program Guidelines are in effect September 1, 2021. There is now a maximum reimbursement amount of $150 towards the reimbursement of a live event ticket. This means you can spend more than this on a live event ticket, however you will only be reimbursed for a maximum of $150, regardless of the ticket's initial cost (and provided you have enough Passport Funding in your budget to do so).
Support Worker Tickets
You can also be reimbursed for up to (2) tickets per event, where one ticket can be used for a Support Worker to attend. If you have more than one support worker and have unique circumstances, you can receive a reimbursement of up to $150 for one additional ticket. Please be sure to contact your Passport agency prior to purchasing your third ticket.
Seasons Tickets
For those who purchase season tickets to a live event, the maximum cap of $150 per ticket will be applied to each ticket within a season. For example, if your season includes four tickets, you can receive a reimbursement for each ticket up to the maximum of $150.
In this case, that's $150 x 4 tickets = $600 maximum reimbursement.
The reimbursement for your 4 seasons tickets would be up to a maximum of $600.
Submitting on MyDirectPlan
To submit your live event ticket for reimbursement, log in to MyDirectPlan:
1) On the dashboard page, head to the "Add Expenses" tab:

2) Inside the add expenses tab, you should find the new expense category which is called "Ticketed Live Events:"

3) Select the expense titled "Event Ticket:"

4) A pop up window will now appear. Please fill out all required information: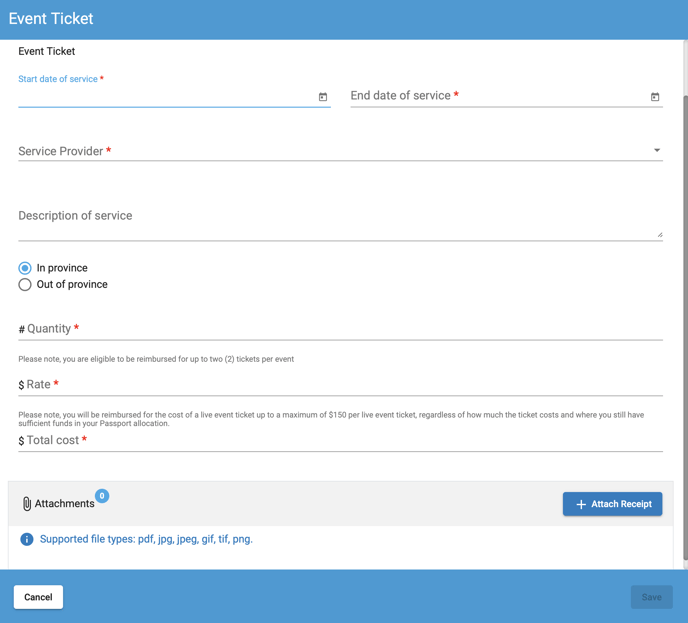 ⭐ TIP: Please note this expense category asks you to select a "Service Provider" from a drop-down window of options. Select the option that best applies: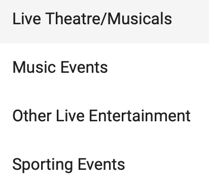 5) You will be asked the Quantity (of tickets purchased) and the rate. MyDirectPlan will automatically calculate the total cost for you based on the information provided.
Once you have entered all the expense information in as required, you can submit your expense as you normally would, by creating the expense and heading to your "Manage Expenses" section to submit the expense for reimbursement.
There you have it! You have now submitted a Ticketed Live Event expense! 🎉
Still need help?